wah..rajin pulak update blog hari ni. maryam asyik tido jer hari ni. bagun menyusu setengah jam then tido balik. tengahari tadi kene kejut nak suh menyusu. hurmm. ngantuk la tu. sape suruh malam tak tido wahai anok?

semalam saya merajuk. tapi merajuk sorang-sorang jelah. sebabnya tunggu husband online lambat sangat, 20 minit sebelum dia tido baru dia online. pukul 1037. kat sana dah 1137. kul 12 dah nak tido. mana cukup 20 minit! so dia call tak angkat and chat cakap nak tido pastu sign out skype. santek tak perangai bini?

i rasa tu sisa-sisa terakhir hormon pregnant kut(tak nak mengaku perangai sendiri, jadi salah kan hormon). hari ni rasa macam bodoh jer merajuk macam tu. dah la memang tahu takkan dipujuk. pastu diri sendiri jugak tak boleh cakap.

so, akibat mummy merajuk ngan maryam sekali tak boleh dengar suara daddy dia semalam.

sebagai tanda perotes tahu ape maryam buat?

sepanjang malam tak tido sangat. kene riba baru dia tido. tu pon tak nyenyak sangat. letak kat bawah jer menangis. ponat den!

i bukak zikir yang dia dengar masa dalam perut. selalu kalau i pasang die senyap jer. tapi semalam tak berkesan. dia still tak nak dok bawah. mahu beriba jugak. adei maryam. mummy ngantuk.

pastu dia macam mencari-cari something sambil tengok arah lappy.

ok. maryam sekarang dah boleh repond dengan bunyi. kalau dia pandang arah kiri, and saya kat kanan panggil dia mesti dia gerakkan kepala ke kanan. tapi mata still tak focus lagi. masih pandang entah mana-mana. tapi kalau masa riba dia or dekat ngan dia mata dia macam dah boleh focus. dah nampak tengok kita. kalau dekat-dekat dia dah boleh nampak kut. kuttt..

kalau malam-malam cakap ngan daddy die, dia akan senyap kejap mungkin tengah pikir suara sape tuh pastu baru lah tercari-cari, and pandang ke arah lappy. tapi semestinya dia tak nampak daddy dia kat screen. tapi biasanya dia akan pandang ke arah latop lah.ke arah sumber bunyi.

so semalam adakah dia rindu suara daddy die?

ke saja nak test kesabaran mummy?

test la maryam masa kecik-kecik and comel ni. maryam menangis pon mummy rasa comel.

so semalam sedikit rasa bersalah sebab tak bagi maryam cakap ngan daddy dia. huk huk.

malam ni ok maryam. malam ni.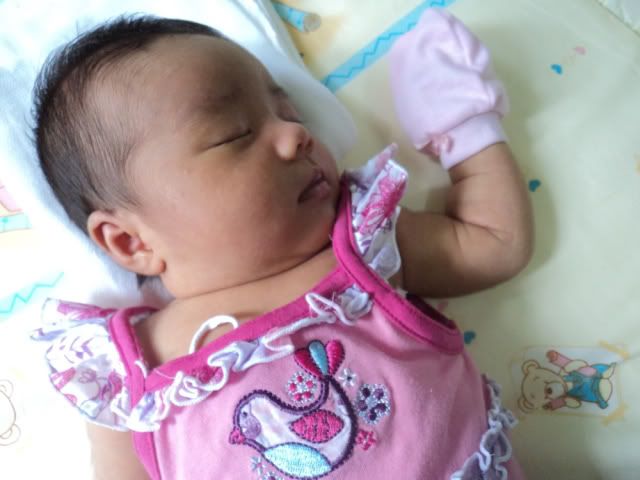 yummilicious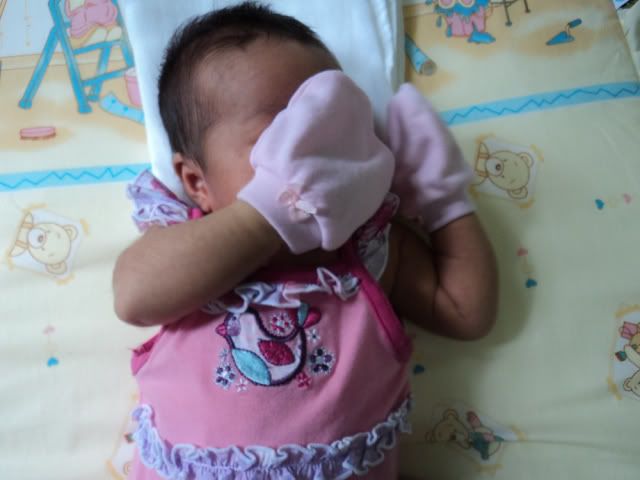 jangan la amik gambar, malu la mummy~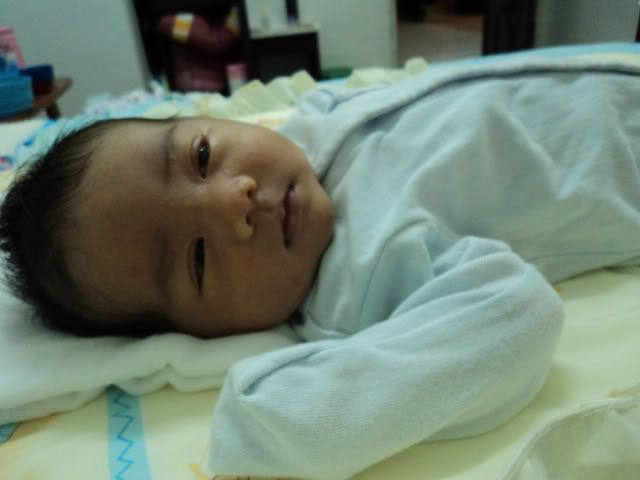 muka stim dah nak ke lala land
mimpi senyum sampai nampak
susu
airliur basi
ni muka dia kalau die tengah focus dengar suara or tengok orang. muka kerut.
mak tok cakap,

" isk mummy maryam ni, tak habis-habis ambik gambar"