i tengah jiwa kacau ni. maklumlahkan, nak balik kampung.

iklan sekejap: sape-sape ade kat kelantan weekend ni dijemput datang makan-makan kat rumah i ditanah merah. ade buat makan-makan sikit. hari ahad. masa: tengahari hingga makanan habis..hehe. kalau nak alamat or peta rumah email ke maghfarah@gmail.com.

okeh. kalau nak balik kampung mesti i risau kalau nanti jumpa orang and orang akan tanya pasal kerja.

"dah kerja ke?"
"tak mintak kerja ke?"
"ade pergi interview ke?"
"dah tu nak jadi suri rumah je ke?" (sambil buat muka tangan kat dada mata ke atas)

tak masuk lagi ceramah free

"orang perempuan ni kena ade pendapatan sendiri jugak, kalau nanti kene tinggal macammana"
"tak sayang ke belajar penat-penat pastu jadi suri rumah"
"orang lelaki ni lagi suka kalau perempuan bekerja sebenarnya"

haish. penat la dengar. haish.haish. pakai ear plug balik kampung boleh tak?

pernah kawan i tanya i,

"ape yang tak best jadi housewife ni?"

so jawapan i salah satunya adelah bila kita nak mengahadapi orang yang telah i kecewakan. yang meletak harapan tinggi kat i. nak tengok i berjaya.

i lagi suka berhadapan dengan orang yang bila kita cakap kita housewife dia buat muka 'owh. housewife je ke kau ni. mesti belajar sampai spm je' . at least orang-orang begini i boleh ignore jelah. lantak ko lah

tapi orang yang menaruh harapan ni?

kalau lah i boleh cakap kat dieorang bertapa happy nye i dengan keputusan and kehidupan i.

camane nak buat dieorang faham?

ke korang pon tak faham kenapa i nak jadi housewife? teruk sangat eh jadi housewife ni bila kita ade degree? kalau i tahu macam tu lepas spm i kerja jer terus. pastu ngorat husband i. lepas kawen i berenti kerja jadi housewife. mesti tak de orang nak kate.

errr..bie, agak-agak kalau u jumpe i, and i takde degree pon. kerja jual goreng pisang tepi jalan u nak i tak?

mesti tak nak kan..hahahah..lain lah kalau i ni muka cantik badan hot giler. jual goreng pisang pon boleh kawen ngan anak raja.

so, nampak tak tujuan i amik engineering then belajar kat utp?

sebab i nak ngorat husband i. (mata keatas, tangan di dada)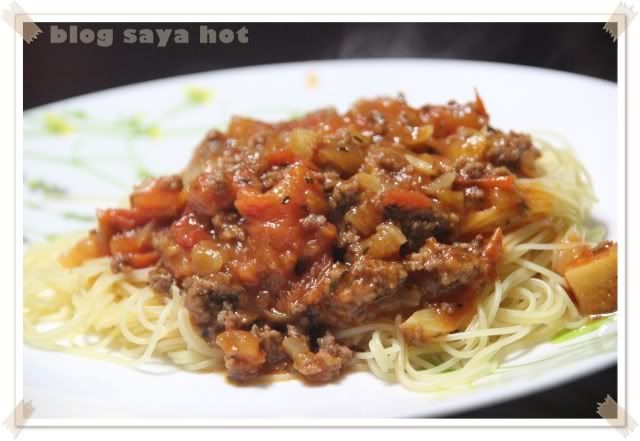 dinner semalam
sape tak tahu joke 'mata ke atas tangan di dada' tuh pergi kat youtube tengok oh yeah!