misi nak gym adalah gagal. tapi makan hari ni tak banyak sangat(compare to hari-hari sebelum ni la). huhuhu
bangun jer pagi lepas husband pegi kerja ingat nak kemas dapo, sekali nampak kinder bueno. sape boleh kata NO kat kinder bueno? ferrero dan kinder bueno adalah dua makhluk yang boleh buat orgasm
selain husband
. eh
pastu insaf kejap. kul 9 baru shake tambah ngan susu anlene lacta and nestum. lemak berkrim disukai ramai.
hari ni hari bergantung dengan mami sedunia. maryam nak ngan mami jer. tak nak dok bawah langsung. nak duduk tapi mami kene bagi susu syaratnya. heh. jadi mami nak buat shake pon sosah. so habiskan bahulu sebiji (besar ok saiz bahulu itu) dan masak popia guna microwave 5 ketul.
selain tu makan tembikai pon banyak.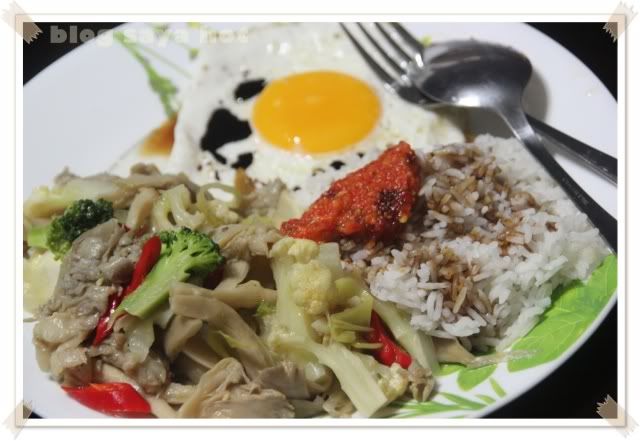 and ni dinner
dah masak sayur and tanak nasi, sekali husband call cakap tayah masak untuk dia. so i pon malas nak masak lauk semata-mata i nak makan. goreng telur mata jer. sonang. itu sahaja makanan stakat pukul 9 malam ini. pelik kan diet i. makan berat malam. ngahaha. nak buat macammana masak untuk husband dinner jer, tak kan i nak tengok jer mata terkebil-kebil. walaubagaimanapon i selalu try makan sebelum maghrib. tapi kalo husband balik lambat terlajak jugak.

so esok nak try shake 2 kali. minum air banyak-banyak. hari ni habis minum 3 liter. dan mahu ke gym petang. hopefully berjaya.

semangat.semangat~

demiyu student-student rumah atas. anak den baru jer nak tido hangpa memekik. aish!