maryam tido lewat semalam. kul 2 baru tido. rosak jadual tido dia sebab mami keluar berjimba.


cik ad, mami, maryam, cik lin, cik hani, moksa
*orang hensem amik gambar ni. yak a auww*
dah setahun dah tak jumpa lin. last jumpa lin masa kat kerteh. masa tu baru buat pregnancy test. sekarang maryam dah keluar dah. dah nak dekat 4 bulan dah umo dia. lama gile dok jupe u lin!

bertolak dari rumah dalam kul 8. sebab tunggu mok sa balik kerja. isk.isk. buzy lah moksa mung ni maryam. mok sa datang amik kita and cik hani kite pergi amik cik lin kat the zone. lepas tu ambik
kak
cik ad kat ampang park.
bergossip adalah benda wajib. walaupon dok ulang cerita sama jer. hahaha.
maryam tido jer masa makan. kadang-kadang bangun jugak, tapi senyap jer. bagus la maryam ni. nanti mommy bawak pergi berjimba lagi. heheheh. boleh daddy?
thanks lin and ad belanje i. hehe. thanks met jadi driver i. thanks zikk kalu xdop fon u maka xdop gambar lah semalam. nak jupe seme orang bukannye senang. name jer seme dok kl. tapi nak tunggu orang dungun mari baru bleh jumpa u ol. haha
thanks bie bagi keluar. hehe. setahun sekali jer pon. next year i keluar malam lagi eh.=)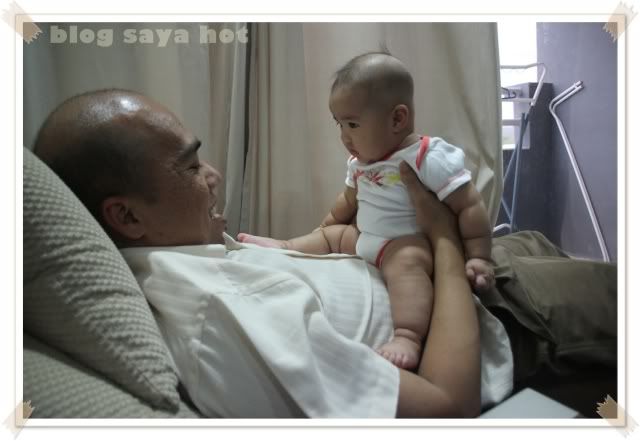 "sori daddy, malam ni maryam tinggal dedi"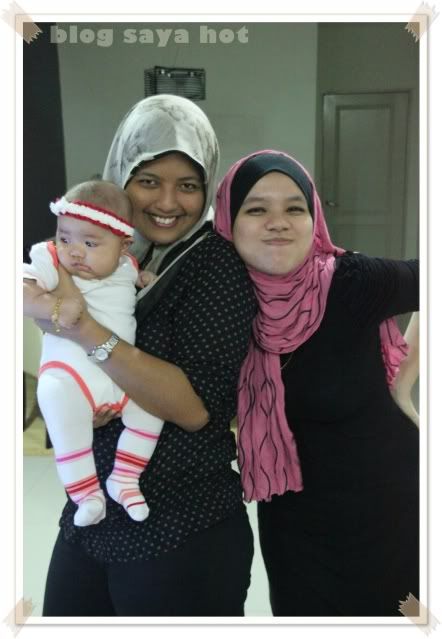 mommy ikan buntal, maryam tengok tv

headband senget benget pon takpe asalkan tengok camera. huhu
"wahhh..tak sangka kita keluar ade baby. tua dah rasa. u la ni magh"- cik lin yang tak nak tua