kat kinraramas ni adelah i kenal 2,3 orang SAHM. tapi kalau nak jumpa memang same susah jer dengan orang bekerja. masing-masing sibuk dengan tugas masing-masing. i yang baru anak sorang ni pon mengejar masa. kalau tambah slot melepak bersama surirumahtangga maka adelah kerja terbengkalai.

tapi sekali sekala boleh lah nak menghilangkan bosan. balik-balik mommy tengok maryam, pastu maryam tengok mommy. lagipon jiran blok sebelah, kak ina dah banyak kali sangat ajak pergi rumah dia, rasa tak sedap pulak. so semalam i bawak lah maryam jalan-jalan keluar rumah sikit. lagipon maryam ni mood dia lagi ok kalau bawak jalan-jalan dari dok rumah.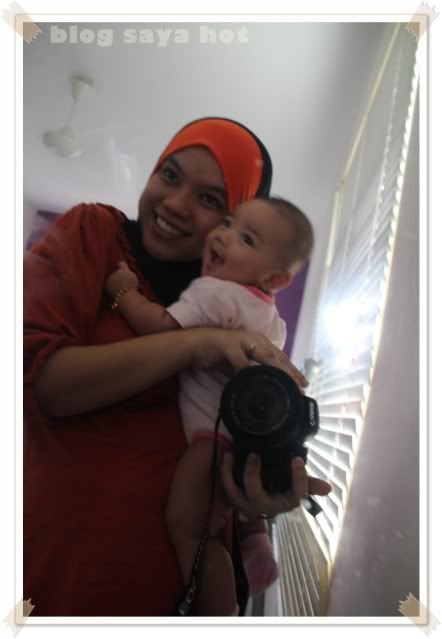 sebelum keluar meh mommy ajar vain depan cermin
masa pergi rumah kak ina, kak ina masak masak lemak sardin dengan pucuk ubi. besssttttt sangatttt. i makan bertambah. nanti nak try buat lah.
dinner: bubur nasi dengan sayur kangkung and cendawan goreng sos tiram ngan ikan kurau masin and bilis goreng.
masak bubur nasi sebab teringin bila masuk blog
kak ieyna
hari ni ponteng sesi gym saya. bukan hari ni pon tau sepatutnya, sebab i dah cakap kat husband malam selasa i tak nak pergi gym sebab nak tengok asmara. sekali dia cakap esok dia nak main badminton, so i kene gym harini lah. haish. i kalau nak pergi gym kene set dalam kepala dari pagi lagi. kalau tibe-tibe kene pergi memang jadi malas. i kene ready fizikal dan mental(alasan orang malas memang banyak)
tadi timbang husband umur sel badan dia sangat muda sekarang. biological age dia 23 tahun ok! i? 40 ++ lagi. deng!!!!
so dia belagak semalam
suami: u tak nak pergi gym ke?
isteri: malas lah. kenyang. terlebih makan
suami: haish. pastu nak sihat macam i. i umur 23, u 40 camane ni. tak sepadan lah

hello hello encik. umur tak penting ok. yang penting 'performance'. eh