sejak jadi buat coklat kek hari tu makin banyak pulak alatan buat kek. buat kek nye tidak. heheh. semangat nak buat jer lebih tapi banyak kekangan. plus mixer takde, kalau nak buat kek kene guna energy lebih sikit lah. (hint: birthday i tak lama dah. i tengok mixer kat jj hari tu takdelah mahal pon. muahaha)

tapi ini kek tayah guna mixer. blend sajor. ambik resepi kat sini

bahan-bahan:

-1 bji buah limau
-1 cawan minyak (i guna minyak canola+sun flower naturel)
-2 cawan gula halus (guna satu cawan gula castor pon dah cukup manis)
-3 biji telur gred A
-2 cawan tepung gandum*
-1 sb baking powder* ( *diayak bersama )
-1 sudu besar sunquick oren *tambah sendiri
-parutan kulit oren yang warna oren jer, putih tu nanti pahit *pon sendiri tambah

Cara-cara
buang kulit limau yang dah dipaur tadi, dan buang biji dan urat putih di tengah2.Potong lagi buah limau kecil2.Masukkan kedalam blender bersama,minyak,gula, sunquickdan telur dan kisar hingga halus.

Tuang bahan yang dikisar ke dalam mangkuk dan masukkan campuran tepung sedikit2 sambil dikacau sebati.

Tuangkan adunan kedalam loyang yg bergris

Bakar pd suhu 170C selama 40 min hingga 1 jam atau hingga masak. (i bakar 20 minit jer dah masak)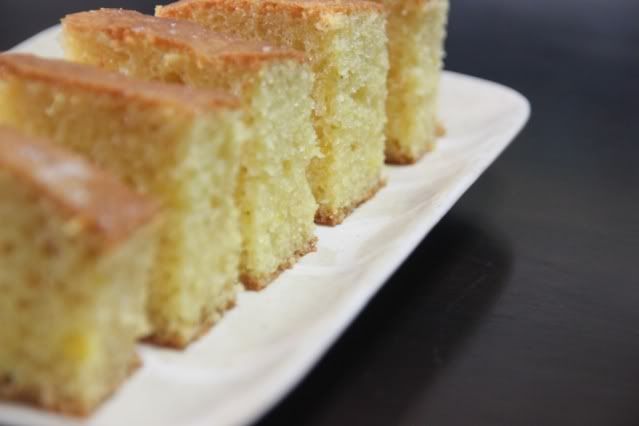 masak terus makan. minum petang husband
(haha..konon2 berseni la potong tinggi rendah macam ni?)=p
masa mula-mula masak and kek ni panas-panas lagi i kurang gemar kek ni sebab dia gebu sangat and rasa 'kering'. tapi sebab makan panas-panas and luaran dia rangup lagi so layan la jugak. i suka kek rasa 'padat'.
esoknya, juga untuk minum petang husband

esoknya barulah i rase kek ni lembap-lembap sikit, makin lembut and makin padat. sedap pulak!