semalam i tak tahu pon cuti sebenarnya. heh. teruk betul. husband pon tak cakap awal-awal semalam cuti. kalau tak boleh merancang awal-awal program. (sebab tu la u tak cakap kan?)

semalam bangun pagi, tanak nasi lemak and rebus telur. lepas tu pergi gym. dah lama tak jejak ke gym. bukan takde masa. husband pon selalu mengoffer diri nak jaga maryam. tapi i yang malas. (i tau korang dah penat dengar. haha)

balik dari gym goreng ikan bilis and ikan tongkol. sambal dah buat siap-siap sebelum tido. then terus hidang.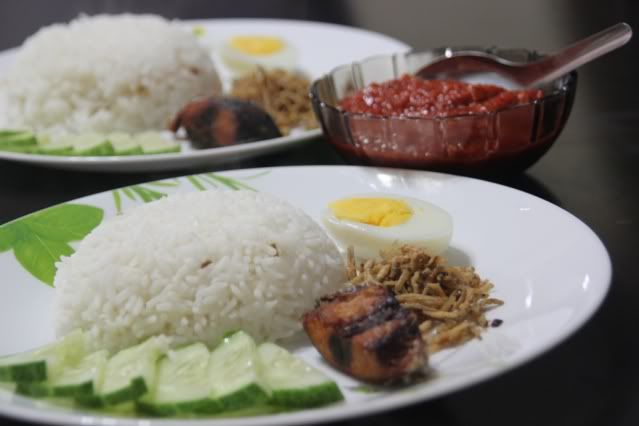 nasi lemak ikang aye
satu untuk husband, satu untuk pok we. pok we datang rumah semalam. i tak makan nasi lemak, sayang calorie baru lepas bakar kat gym.i shake jer. tapi nasi lemak i tak lemak sangat pon. cukup-cukup syarat jer. santan sikit giler. orang german kate cair loley loley.heheh

kul 930 turn husband pulak exercise. dia turun main badminton ngan jiran tetangga. turn i pulak jaga maryam. lunch makan nasi lemak lagi. i saje masak banyak sebab malas nak masak. hahaha.petang, kiteorang ingat nak keluar jogging ke, jalan-jalan ke, sekali hujan, so kita tido. haha. malam keluar pergi giant. hohoh. tu jer aktiviti semalam. bosan giler.-__-"