semalam husband turun main badminton. dia tak sihat sangat lagi sebenarnya. makan pon tak lalu sangat sebab tekak dia sakit. tapi biasalah orang lelaki kan, kalau kat rumah sakit situ, sakit sini, jelepek sana, jelepek sini. bila orang ajak main on jer. i malas nak kata ape. nak pergi main pergilah. balik jangan merungut penat la, sakit situ, sakit sini. i dah ready ngan ayat-ayat cinta. macam tahu-tahu jer i dah karang dua tiga perenggan ayat-ayat cinta berunsur tazkirah, balik main badminton macam orang sihat segar bugar. nak tido pon tak suruh i urut. tapi pagi ni badan macam dedar balik. pastu nampak macam tak larat jer.

hurmmpphh..malam ni pergi la main futsal pulak bie. i suka u bersukan menyihatkan badan

sakit tekak, batuk, seseme. rokok? isap jugakkkk. kalau i cakap kan dia cakap rokok boleh sembuhkan seseme. sembuh sagat la tuh.dah nak dekat seminggu dah seseme.

eh. sebab semalam tazkirah tak keluar, hari ni menaip jer terus belebe pasal husband.dah-dah. kembali ke jalan yang benar.kita start balik.

semalam husband keluar main badminton i pon turun jugak. saja turun tengok orang. tapi benda yang pasti i buat kalau turun bawah adalah masuk kedai runcit. buka besar pon kedai tu, barang pon tak banyak tapi yang pasti kalau i masuk kedai tu i akan pusing satu round tengok semua barang. pastu amik choki-choki ke, air ke, nini cokelat celup ke, pastu bayar, balik rumah. (i kan, kalau tengok nini cokelat celup mesti nyanyi dalam hati 'nini cokelat celup, celup,celup'...berkesan betul iklan dia)

kedai runcit kat bawah tu buat i teringat kat kopetro kat utp. atau nama pendeknya kopet. kopet v5 adalah kopet kegemaran. kopet v4 tak best sangat sebab bersepah. kalau masuk kopet mesti semua benda nak tengok. lepak dalam tu lama-lama round-round tengok barang. last-last beli keropok ikan jer. huhu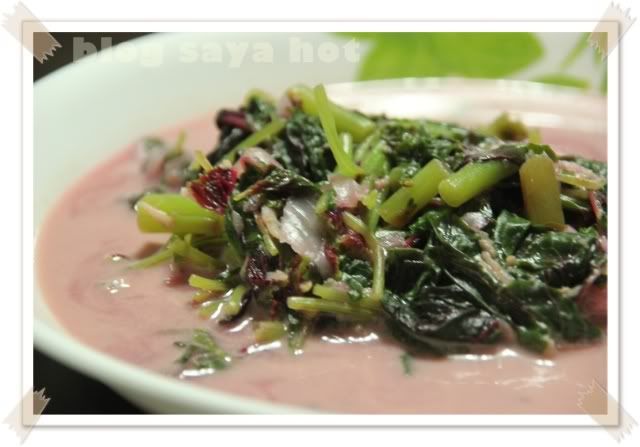 sayur pink aka sayur bayam
masa i kecik-kecik, kalau mak or awoh masak sayur bayam ni, mesti i makan bertambah-tambah. makan sayur tak makan lauk pon dah ok. tak kisah la sayur air je ataupon sayur lemak. dua-dua sedap. sebab suka sangat dulu belakang rumah ade pokok bayam merah ni. tak susah pon tanam, and dia cepat membiak. suka bayam ni dari bayam hijau.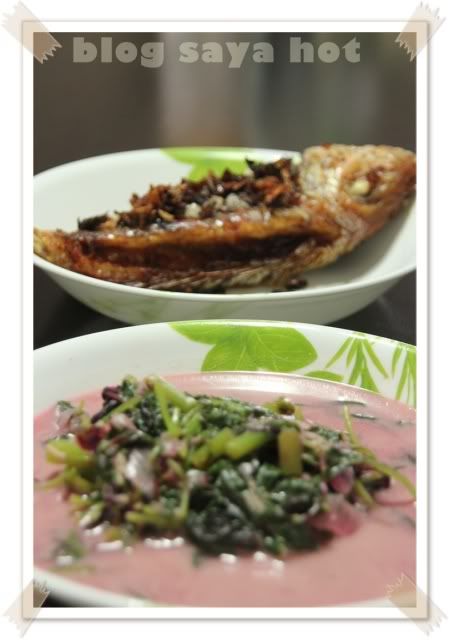 lawan dia ikan goreng je.
lagi satu i suka zaman kanak-kanak adalah masak lemak sayur campur. ade kubis, ade kacang panjang, carrot, and yang penting ade taugeh. pastu makan dengan ayam masak pedas. boleh mendatangkan o
rgas
m!