perkhabaran gembira dan perkhabaran kurang gembira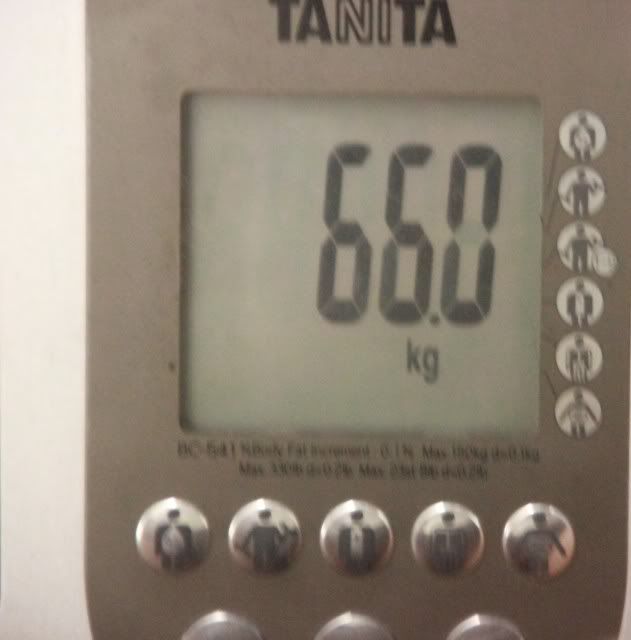 berat turun sekilo!
dalam masa 2 minggu. tak jaga makan sangat. nasi tu try kurangkan. tapi banyak mengunyah benda lain lah pulak. haish. dah la mengunyah benda tak sihat. tapi shake 2 kali sehari. skip 2,3 kali jer dalam masa 2 minggu ni iaitu masa weekend. pergi gym sekali jer hari sabtu lepas. tu pon kejap jer sebab treadmill rosak. ade seketul jer so kene tunggu turn. cycling 20 minit sebab tunggu turn. cycling ni penat tapi kalori terbakar lambat sangat. haish. lepas tu baru berlari tapi mase tuh dah capek so bertahan 15 minit jer. lepas tu stop. mak ponat!
this week perancangan i nak jaga makan dan kurangkan mengunyah. kerepok, kerepek, oreo coklat adalah jangan. eh tapi semalam makan coklat jiran kasik. adeh. pergi gym tu nak tapi bila petang serius badan dah penat sangat. my husband cakap i tak consistent dalam bersenam. dia tak tahu bertapa penat nye i nak berlari-lari dengan tubuh yang gemuk ni. lepas bergelut seharian dengan maryam, mengemas rumah, sudah no energy maaaa...kang rumah bersepah kang merungut pulak. tapi mungkin boleh la 2 kali kut seminggu.insyaAllah. pastu tak nak makan benda goreng-goreng. rebus-rebus or bakar-bakar sajor. hehe. boleh ke?
semangat.semangat!
nampak berat turun baru ade semangat sikit. walaupon turun sikit jer.
perkhabaran tak gembiranya adalah saya selesema. deng! and rasa pening-pening dan nak demam jugak. tapi sebab tadi timbang berat turun so kene update blog berat turun dulu. heheh.
tengahari semalam start soksek-soksek and semalam air hidung dah macam air paip. tak berhenti mengalir. pagi tadi masakkan husband nasigoreng tak tahu rasa ape.
jangan lah berjangkit kat maryam.=(