hari sabtu lepas birthday i!

(happy birthday to maya jugak. i tak pernah jumpa orang yang sama birthday dengan i. seperti yang dijangka, orang yang sama bithday ngan i adalah orang yang hebat macam i. hahaha. nama pon sama pelik.=p)

masa hari birthday i tak rasa birthday i langsung pon. sebab hari tu i sangat penat. penat makan kut. 2,3 hari in laws ade kat rumah asyik makan, makan dan makan. husband ajak celebrate lepas kenduri and semua orang balik i cakap lain kali lah. i penat nak balik tido. haha. tak excited langsung birthday sendiri. -_____-"

semalam siang kiteorang menghabiskan masa mengemas rumah. lepas tu petang birthday tengku zara yasmeen(nanti cerita entry lain. kene cerita birthday budak kesukaan i neh) . lepas birthday zara kiteorang balik. husband ajak makan jugak kat IOI mall tu sebab alang-alang dia datang nak jumpa kawan dia. i tak nak, sebab dah kenyang membuntal makan kat birthday zara. tapi i boleh smell something fishy sebab my husband kalut semacam asyik sms jer pastu i nak pinjam phone dia tak bagi macam-macam alasan.

pastu dia cakap nak jumpa kawan dia kejap kat little pantry kat IOImall tu so i bajet dalam tu ade kawan-kawan die yang kiteorang selalu lepak sama-sama sebab kat birthday zara tak ramai kawan-kawan die datang. hahaha. boleh pulak i terpikir die nak ajak kawan-kawan die celebrate birthday i. sebab i tak terfikir pon die boleh berpakat ngan kawan-kawan i.

tapi bila masuk little pantry takde orang pon. (agak frust disitu =p) dan my husband pon berjalan ke arah jalan keluar dah so memang dah frust sangat dah. huhuhu. pastu nampak zac ngan my rumet dok disebalik dinding.

auwww..my friends!

hehe. thanks husband. thanks zac ngan aisha jugak sebab melayan request my hsuband and pergi survey tempat segala. huhu. korang memang the best! since buat plan pon last minute, so tak ramai boleh join. tapi tak pe, i boleh rase dah semangat-semangat orang lain ade jugak semalam. haha. 2 orang ni pon dah buat waiter-waiter kat little pantry jeling-jeling. bising amat. haha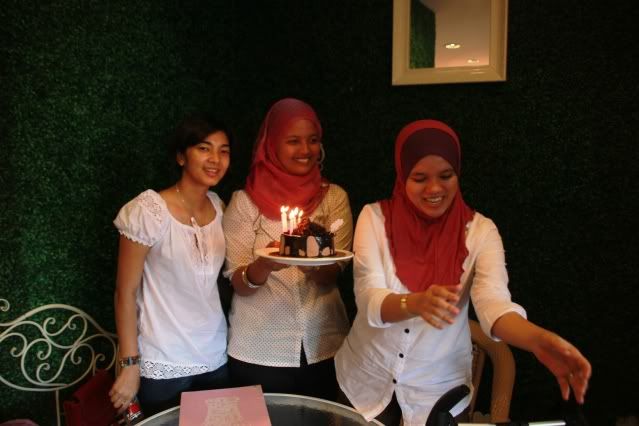 i adalah sangat happy plus tak sangka plus malu so tak tahu nak buat muka macamana -___-"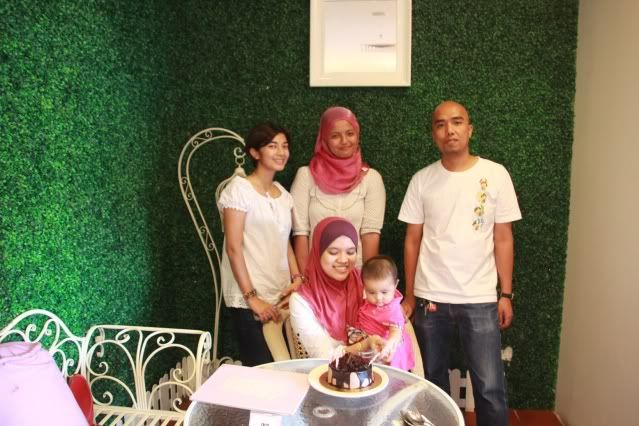 2 tahun berturut-turut ade surprise masa birthday mati lah next year mesti frust kalau tak de pape (hint. haha)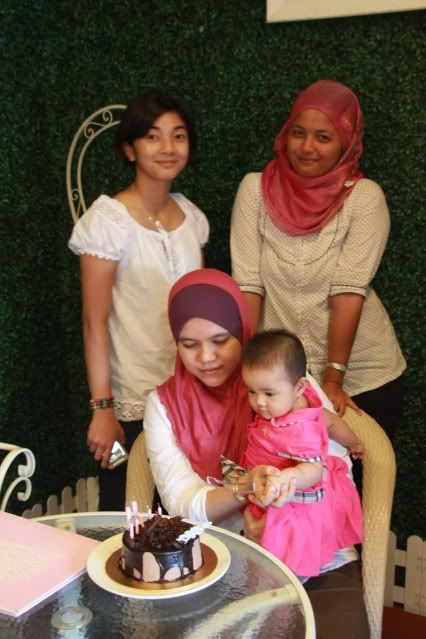 besties
how lor nak cakap thanks kat korang, tak terungkap. tq very much. i tahu i sangat lah tak independent (bukti nya adalah semalam =p) sebab nye i tahu kalau husband i takde, u ol ade. huhu
the best husband in the world
i'm sorry sebab i sedikit garang semenjak dua menjak ni maybe sebab penat and tak cukup tido. dan selalu jugak merungut. aish. bila lah i nak join kelab isteri taat ni.
i love u bie!
muka excited adalah muka buruk giler so plis jangan over excited lain kali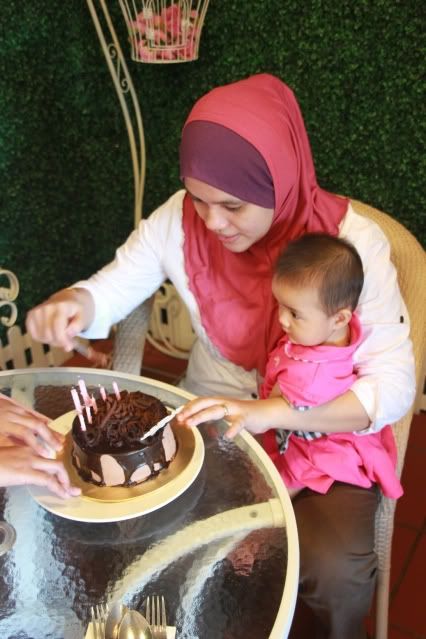 maryam baru bangun tido muka blur jer. nanti awak setahun kita tiup lilin ok.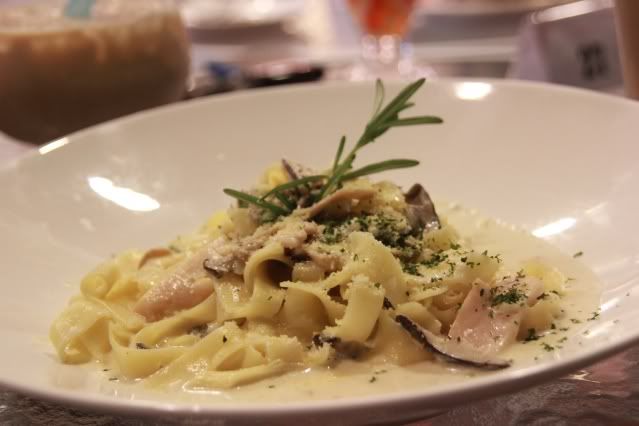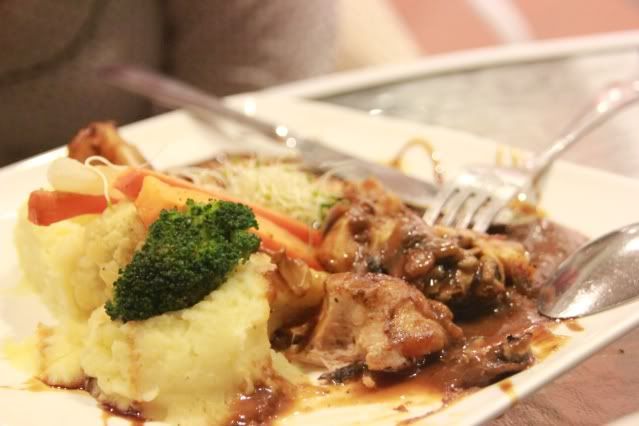 foods adalah biasa-biasa jer. takpe food tak sedap pon. yang penting i happy hari tuh food biaser-biaser pon jadi sedap dengan kehadiran kesayangans. kalau lagi ramai kesayangans yang datang lagi best. tapi kedai adalah sangat comel.
25 tahun. greatest husband. cutest maryam. bestest besties. 2 family besar yang supportive. what else do you want?
tq allah~!
owh. kebetulan pakai baju sama tema semua orang. memang terbaik~