semalam husband dah kembali ke pangkal jalan. jadi aktiviti masak-memasak pon kembali. pagi ni bangun diawal pagi masakkan husband sahur. masak benda yang simple jer.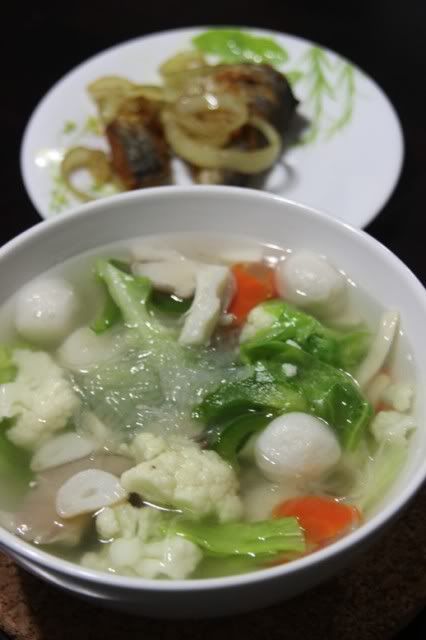 sayur campur dengan fish ball and suhun beserta ikan tenggiri goreng
makan dengan nasi panas. i tak makan pon. husband jer makan nasi. tidak berpuasa kelagian. kalau i puasa pon i rasa i shake jer pagi-pagi.
tahun ni dah masuk tahun ke-3 kami berpuasa bersama-sama. tapi i still blur nak masak ape sahur untuk husband. and i tak tahu dia jenis yang makan macam mana masa sahur. dan semalam i tak boleh ingat langsung ape menu yang pernah i masakkan dia sahur.
selepas menggali-gali entry lama, (blog sangat berguna untuk orang yang memory cepat benor terdelete ni) kiteorang dulu-dulu kalau sahur memang shake herbalife jer.
first year sahur banyak duduk kat kerteh masa tu. shake lepas tu pergi buffet sahur rantah lauk. huhu. last year pregnant. pon shake. this year dah nak dekat separuh ramadhan baru berpeluang masakkan husband sahur.