alhamdulillah berjaya jugak buat openhouse buat kali pertama. raya haji tahun lepas ade jugak buat makan-makan tapi tu secara tak sengaja sebab kebetulan ade orang nak datang beraya so alang-alang masak lebih panggil rakan-rakan datang makan.

maaflah kalu ade yang tak terjemput insyaAllah next time buat besar sikit kali ni first time ajak orang tak ramai pon dah kalut and rumah dah penuh. rumah kecik ni tak boleh lah nak ajak orang ramai-ramai. next time kalau nak ajak orang ramai sikit kene buat jadual. tetamu berperingkat mengikut kategori masing-masing. huhu

setelah dikira-kira tetamu haritu seratus lebih jugak lah termasuk baby. tu pon ramai jugak lah jemput tapi tak hadir. makanan alhamdulillah cukup-cukup. tak banyak sangat pon lebih lauk pauk. tak lah membazir. mula-mula tengok food risau jer tak habis sebab ramai jugak tak bagi respond nak datang ke tak.




tak sempat nak ambik gambar awal-awal. so bila tetamu dah sampai and makan baru ambik gambar. hehe

menu hari tu main dish nye adalah nasi kukus ayam berempah. yang di tempah jer. husband mintak 7 ekor jer mula-mula. pastu takut tak cukup tambah lagi sekor. nasib baik tambah, sebab ayam ngam-ngam habis.

menu yang i masak rendang ayam, rendang daging, kuah lodeh, kuah kacang, angel hair ngan sos bolognese sos and carbonara, sambal bilis, bubur pulut hitam and agar-agar lumut. dan goreng nugget jugak untuk kanak-kanak.

jiran ade datang bawak agar-agar bandung dengan masak lemak sardin dengan batang keladi. setap!


nampak tak agar-gar hijau kat meja bawah tu?
pandan tu malam-malam baru pergi mintak daun pandan ngan jiran. haha. dan pukul 3 baru dok mengacau agar-agar. sebenanrnya dah malas nak masak, tapi husband yang nak sangat makan so buatlah jugak. sekali dia tak sempat rasa pon agar-agar tuh.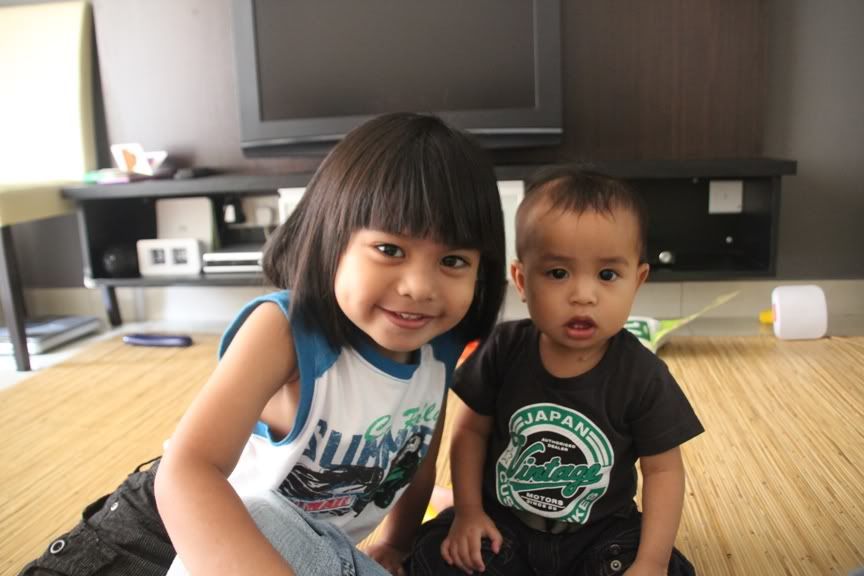 tetamu paling jauh datang paling awal.hihi. comel aqeel gambar ni
tengok cik hani mung maryam!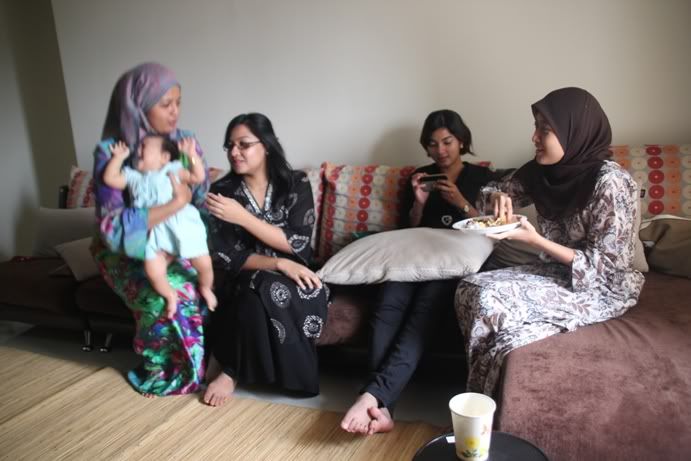 maryam mengamuk
maryam ngan tok mama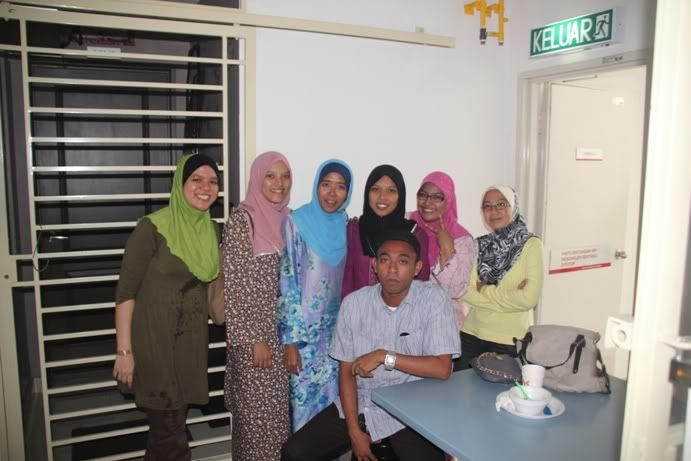 kawan sekolah rendah. (baju basah basuh periuk-___-")
ade yang dah 13 tahun tak jumpa okeh! ade yang dulu masa sekolah rendah die lagi tinggi dari i, sekarang i dah lintas semua orang. dari segi tinggi dah gemuk of cos. muehehehe. i lambat matured, so tinggi pon lambat.
tu jelah gambar yang ade, tak sempat nak ambik gambar pon. sedih
maryam mood tak ok hari tu. nak berdukung jer. so i tak boleh nak tinggal dia. jadi husband lah dok kalut sorang-sorang cek ape food yang kene topup, nak layan tetamu lagi. sampai bila orang ramai sangat tuh terputus bekalan air manis. heheh. tak sangka la pulak air satu tong tu boleh habis. dan spaghetti pon terputus bekalan. i dah rebus 3 bungkus, separuh hidang, separuh topup. husband topup dia tak cakap, i ingat ade lagi kat dapur. nasi baik spaghetti cepat jer masak.
agak kelakar jugak lah buat makan-makan sambil kalut ribut ni. tambah kelakar lagi maryam mood tak ok. hurrmmphhh!
tapi seronok sangat bila tetamu datang ramai-ramai makan food kita masak. penat lelah letak ketepi. food licin memberi kepuasan berganda.
husband lah kut orang yang paling happy haritu. sebab kawan-kawan die jelah pon yang datang ramai. kawan ofis dia. sampai boss pon datang.
thanks kepada yang datang, harap berpuas hati dengan food yang dihidangkan dan mintak maaf lah kalau ade yang terkurang.
insyaAllah kalau ade rezeki bulan 12 ni buat makan-makan lagi.