stress ade di mana-mana. orang bekerja stress nya begitu, orang dok kat rumah ni stress nya begini. lagi menyakitkan orang kat rumah ni stress dia dengan orang terdekat dan tersayang. lagi parahkan.

semalam saya telah sedar saya selalu menambah unnecessary stress di dalam badan. itu stress tak patut wujud pon sebenarnya, saya perlu menguatkan diri and mengentalkan hati. dan kene belajar buat 'donno' jer biar ape pon orang nak kata.

macam susah nak buat. tapi perlu belajar buat. kalau tak nanti benda sama berulang-ulang akan berlaku padahal takde benda pon yang berubah. kau tetap dengan keputusan kau, biar ape pon orang nak kata. so stress sebelum ni adalah tak perlu. buat tambah kedut kat muka jer.

orang putih kata, five simple rules to be happy:

1. free your heart from hatred
2. free your mind from worries
3. live simply
4. give more
5. expect less

tu cara dia. cara kita? kepada-Mu ku berserah.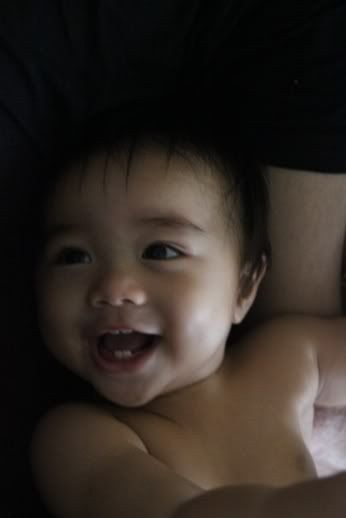 boleh tempis-tempis unnecessary stress. sambil tengok muka macam ni...
ummi takde beg LV pon takpe maryam
berbaloi-baloi
*ehem*
upload jugak guna blogspot sebab tak nak bagi orang yang kat ofis yang tak boleh tengok photobucket stress. haha!